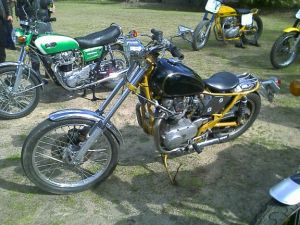 XSMildChop
by Phil Dorman
1973 Yamaha TXA. All chopper mods within the limits of the registration rules.
Engine:
650OHC Twin
Transmission:
5spd
Frame:
Stock
Mods:
6\" over forks, 16\" rear, 21\" front etc
Tech Comments:
No difficulties really
This was basically an exercise in how far you can go with a bike without requiring special approval for road registration in NSW Australia. There are published guidelines to allowable modifications and this has kept within them all.
Very nice to ride and I really do believe better than as standard. Not very comfortable though. No instruments as such just a Motogadget Mini which is just Great.