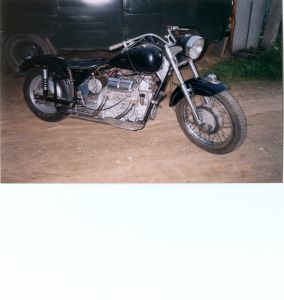 Panzerfaust PF1200II
by Surt, myself
A home-made old-timer powered with V4 1200cc taken from a Soviet car ZAZ1200 from 80s.
Engine:
V4 1200cc air-cooled
Transmission:
Ural M63
Frame:
Home-made
Mods:
Plenty
Tech Comments:
the Panzerfaust II runs as Ural, faster to accelerate, slower to stop (kidding, much the same :)). Also now I\'m out to emigrate to Australia, so look for job opportunities in a customs building.