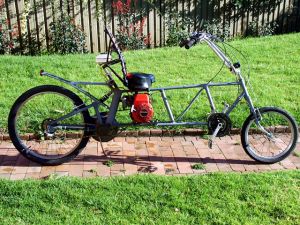 TourSleazy
by weezil
2.5 HP motor bicycle - up to 84km/h - 100km/litre economy
Engine:
Honda G100
Transmission:
Self-made differential + 7 speed Shimano derailleur
Frame:
one-off
Mods:
all!
Tech Comments:
no licence, no rego, no tax, very cheap to run
Self-built motor bicycle, modeled on the \"Tour Easy\" bicycle made by Easyracers. Made from 2x 10-speed type road bikes, one mountain bike and about 3 metres of 7/8\" & 1\" tubing. Handlebars and saddle started as raw tubing. Engine is a Honda G100, 97cc sidevalve, 4-stroke, 2.5 HP. Pedal and engine drive are routed through a differential transmission allowing simultaneous or exclusive use of engine or pedals. 25kg carrying capacity on rear rack. Averages 55-60km/h on the flat, 84km/h max recorded speed. >100km/litre possible on level routes.