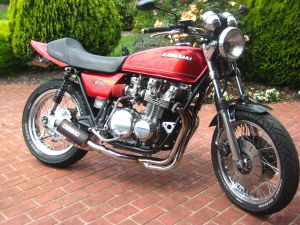 Z650
by Ed
Kawasaki Z650B1 1977
Engine:
810
Transmission:
5 speed
Frame:
Standard
Mods:
Many
Tech Comments:
Ongoing
Modifications include:

Z650 B1 motor with an 810 conversion.
Black powder coated frame.
Candy Apple Red paintwork (re done but original colour) with black and silver pin striping (replacing the original orange and gold).
32mm Mikuni's.
Exhaust system - cut and modified with Micron carbon fibre can.
SR650 front forks with upgraded springs. SR650 front callipers and discs.
SR650 cut down front mud guard.
Metal braided brake lines.
18" Spanish Acron rims, polished alloy. Heavy duty polished stainless steel spokes. Polished alloy box section Metamachex deep brace Swinging arm.
Koni Dialaride rear shocks.
Home made chain guard.
Renthal handle bars.
Chrome clock covers & side stand.
The seat is a Giulliari 2/4 seat.
Polished engine casings.
Honda VF1000 master cylinder.
Redline heavy duty clutch kit with Z1000 clutch springs .... think that's it!