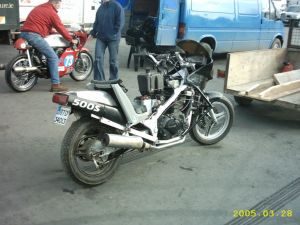 GPZFF TD
Track day version of GPZFF.
Engine:
Kawa twin
Transmission:
Chain
Used bits left over from second GPZFF which was bought for the engine to make a track day FF bike.
Cut down moulded ambulance seat.
Relocated handlebar and drag link to original handlebar mount.
Ride-on mower fuel tank.
Extended swing arm (bolt in extensions).
Engine to be replaced (current engine seized after a crash).